Insight – Where ideas fuel change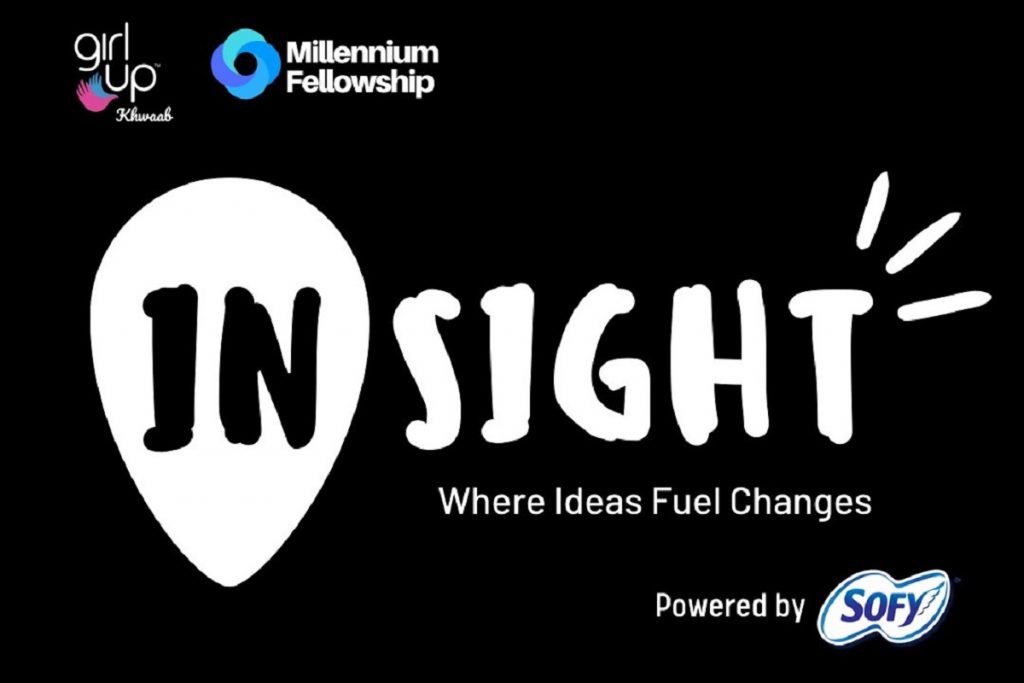 [responsivevoice_button voice="US English Female" buttontext="Read out this Theel for me"]
---
The Millennium Fellowship is a United Nations funded semester-long fellowship that promotes leadership development skills on campus. The fellows then become responsible for promoting other UN incubated initiatives. It picks up students studying undergraduate and postgraduate courses. The selection process is rigorous and the desired candidates are an all-rounder in academic record, leadership skills, extra-curricular activities, volunteer work, projects undertaken, etc. There are 7,000 alumni of the fellowship in around 35 countries. Over 75% of the fellows are pursuing a career in the social sector. Girl Up is a United Nations Foundation initiative which started 10 years back in the United States and 3 years back in India. It encourages school and college going girls and boys passionate to works for the causes of women empowerment and gender equality. There are currently 70,000+ active members in Girl Up around the world and 4000+ clubs. Girl Up Khwaab is one such campus-based in Amity University, Noida trying to make a change in the world.
Insight – Where Ideas Fuel Changes is an event that the Millennium Fellowship (MThere) have undertaken in association with another UN incubated initiative – Girl Up (Khwaab), the Armchair Journal. It's a multigenerational space to talk about women's empowerment, mental health, innovation and leadership, climate change, skills for the future, effective communication and inclusion and representation. Girl Up focuses on empowering girls to take the driving seat of their lives. It recognizes the intersectionality of the gender theory; thus it puts the problems about Dalit, Adivasi, poor and especially able women into the forefront. It makes itself more diverse and inclusive by including male volunteers and audience in several of their projects. In the past, it has started several online and offline discussions on menstruation hygiene, marital rape, domestic violence, dowry torture, etc. It has also made women aware of the legal and moral arenas in which they can assert their rights. Until now it has a presence in over 125 countries with 4000 registered clubs and has influenced over 75, 000 girls in ways big and small.
The insight will be a virtual symposium held for three hours every day for three days – October 30th, 31st and November 1st, 2020. Its ultimate vision is to fulfil at least some Sustainable Development Goals (SDGs). Especially SDGs 3 (good health and well – being), 4 (quality education), 5 (gender equality), 8 (Decent work and economic growth), 10 (reduced inequalities ) and 13 (climate action).
The speakers include Dr Vikram Patel a psychiatrist, researcher, professor at Harvard Medical School who shall speak on global mental health and the need of ordinary human beings to develop fellow human connections with others.
Natasha Mudhar who is the CEO and MD at Sterling Media one of the international communications agency who describes a need like never before to include women in leadership positions to have a female point of view in the organization.
Captain Shalini Singh an ex-army officer and motivational speaker shall deliver a talk on rising again from failure.
In case you are a budding entrepreneur looking for inspiration then we have the amazing Chief Innovation Officer of ENACTUS Worldwide and has 18+ years of experience in the entertainment industry.
Writer, speaker and producer Keni Thacker who is the founder of 100 roses from concrete shall focus on a talk that highlights his work – empowering men of colour in the advertising business.
Gayathri Vasudevan the CEO of LabourNet that continues to improve the income of individuals in the informal sector through sustainable means shall also talk about her work.
Lt. Gen. Iqbal Singh Singha speaks about his tenure as the Head of the Mission and Force Commander at the United Nations Peacekeeping Mission at the Golan Heights during the start of Syrian Civil War from 2012 to 2015. Finally, we also will be hosting Rajan Luthra who is an alumnus of IIT-Delhi, Wharton Business School and has worked initially as an IPS officer and later switched to management consulting and worked in McKinsey and Co. He is now an education entrepreneur who has founded several initiatives like ConceptOwl, CourseBrew and HabitStrong.
We hope to see you there! Do join in large numbers. We shall provide certificates to all participants with logos of Millennium Fellowship and GirlUp.
Featured Image Credits: GirlUp Khwaab Insta