Celebrating our Teachers in an Evolving World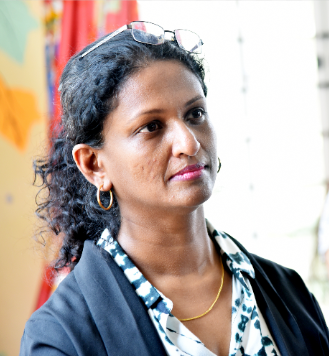 Rachel Jayan is celebrating her 25th year as an educator and is currently the Primary Years Coordinator at Indus International School, Bangalore.
September 5th pays tributes to the contributions of the teachers. It is the birth anniversary of renowned educator Dr. Sarvepalli Radhakrishnan who was a scholar, former President of India, and above all a transformational teacher. He rose above celebrations of his own birthday to celebrate the teachers and gave credit to their efforts all over India. Prime Minister Narendra Modi rightly quoted which mentioned that 'Teaching is not just a profession but a Jeevan Dharm (A way of life)'.
Today is indeed a time and an auspicious day to celebrate our precious teachers not only as educators, facilitators, and mentors but as our very own frontline warriors!! Many of us have come from a generation where teaching and learning stemmed from the Gurukul system to textbooks, chalk, and talk, yet in this new age and era we remember our teachers fondly. They found their own ways to help us learn and help deal with our physical, social, and emotional settings as well. From the teachers who were available to hugs, good cheer, and personal attention they went behind the screen, untouchable, yet reaching out to all those under their care using a variety of different tools and strategies. From Ready-Set-Go in the month of March 2020 our teachers have been transforming themselves from national citizens into global digital citizens.
Beginning with slight hiccups and inhibitions, Zoom, MS Teams, Google Classrooms, Seesaws and many other platforms turned their worlds upside down, yet they stood strong undeterred in their fight against the pandemic moving forward one day at a time keeping students engaged and motivated. They began their journey by sharing best practices and soon this hesitation and fear changed into confidence and some proved to be very tech-savvy teachers. Despite the overwhelming consequences of the pandemic, this global crisis has also been an extraordinary time for learning. Teachers are learning how adaptable and resilient educational systems, policymakers, students, and families have been in some schools. They have completely turned on a new leaf in the history of education. The pandemic is recalibrating how teachers use their time effectively to bring out enduring understanding rather than fact-finding.
As teachers began implementing guidelines and recommendations on the use of digital toolboxes, they also gradually found themselves balancing, educating, and providing feedback to students remotely.
Yet, the path was not easy. There may have been roadblocks as there may have been times when they have not been able to reach out to those students who were economically geographically, socially, or emotionally unreachable, yet try they did!! Being sandwiched in between the administration, parents, and students they have been at the helm of coordination and execution of standards and practice and have tirelessly kept the rhythm and the beat of the school policies. Amidst all this burnout they also attempted to take care of their families, while some of them lost their jobs, moved on to other jobs and many even lost their lives and loved ones to the pandemic.
But the world has to move on and online learning is the new direction that will bring in the transformational shift in the education system. The online scenario and teachers being teachers are putting in their whole soul to help students learn how to learn and win over the situation they are in. While statistics say learning has dipped, there are so many who have also gained and taken advantage of online learning to bridge the gaps and climb up that ladder of learning, with age and economic situation as 'no bar'.
Ultimately, each one of us is soon going to be part of an era that is moving towards self-directed learning and taking ownership of our own learning by being an integral part of real-world situations, rather than being an island of knowledge and content. Learning for a higher purpose and taking our passions forward are now the need of the hour.
Authors, educators, and visionaries have anticipated and urgently communicated the need for this change in our outlook and system in various ways, yet we did not listen, or must I say we chose not to listen.
Muhamad Yunus in his book, Banker to The Poor, mentioned and warned "I now focus on the task of unlearning theory and on learning instead from the real world. I did not have to travel miles to find the real world. It was just outside the doors of the classroom. It was everywhere except inside the classroom."
Another earnest quote from his book "Why had not my university, my economics departments, all the economics departments in the world for that matter and the thousands of intelligent economics professors, why had they not tried to understand the poor and to help those who needed help the most?"
In the words of Robert T Kiyosaki who is touching the hearts of many a youth today with his beautifully illustrated book Rich Dad Poor Dad; "One of the reasons the rich get richer, the poor get poorer, and the middle-class struggles in debt is because the subject of money is taught at home, not in school. Most of us learn about money from our parents. So, what can a poor parent tell their child about money? They simply say, "Stay in school and study hard." The child may graduate with excellent grades but with a poor person's financial programming and mindset. It was learned while the child was young."
The 'rich dads' advice regarding financial literacy to the children in his care created further cacophony in minds "The main reason for poverty or financial struggle is fear and ignorance, not the economy or the government or the rich. It is the self-afflicted fear and ignorance that keep people trapped. So, you boys go to school and get your college degree and I'll teach you how to stay out of the trap"
Hence in the words of Victor Frankl in his book Man's Search for Meaning, "When we are no longer able to change a situation, we are challenged to change ourselves."
The New Education Policy is a welcome change especially in India with respect to ensuring inclusivity and meeting the e-education and holistic needs of both schools and higher education which will change the course of education with able guidance and mentors. The addition of vocational skills and exposure to many other skills is a change waiting to be mobilized in the education system today to its full potential in this pandemic-stricken world. The development of attitudes and values to move head-on forward from this ever-growing world of materialism and apathy is an added chip on our shoulders today.
Author Bronnie Ware rightly quotes in her book, The Top 5 Regrets of the Dying that "Success doesn't depend on someone saying yes, we will publish your book or no, we won't. It is about having the courage to be 'you' regardless." Thus, it is imperative that each one of us on this journey called life, find our true self, our moral compass, and our destination, whether teacher, student or parent, and garner all our strengths to build educated and creative children of tomorrow who are equipped to fight the storms and swim the seas of tomorrow to reach the coast.
Thus, we celebrate all of us who are part of this effort today; parents, authors, educators, thinkers, visionaries, NGOs, and anyone who feels genuinely involved in shaping our upcoming generations amidst deep turmoil, into strong, collaborative, and global citizens of the world who dare to live and tell their tale someday. We are all in it together!!
Happy Teachers Day!
---
Bibliography
Frankl, Viktor E., et al. Man's Search for Meaning: The Classic Tribute to Hope from Holocaust. Rider, 2008.
Yunus, Muhannad. Banker to the Poor. Public Affairs, 1999.
Ware, Bronnie. The Top FIVE Regrets of the DYING: A Life Transformed by the DEARLY DEPARTING. Hay House, Inc., 2019.
Kiyosaki, Robert T. Rich Dad Poor Dad. FBV, 2020.