U.S. Withdrawal from Afghanistan: Analysis from an Indian Standpoint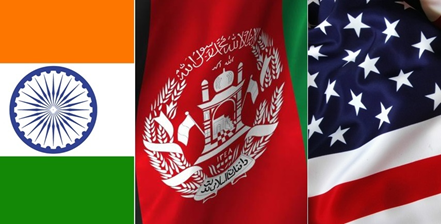 ---
As the withdrawal of the US troops from Afghanistan gains momentum, the land that hosts the longest-running conflict of the 21st century is coming to terms with reality, most aspects of which are dark. Recent reports suggest that the Afghan troops are surrendering their outposts in large numbers to the Taliban fighters. The situation is expected to worsen further. Taliban's record vis-à-vis peace talks have been highly unpredictable. As it makes further territorial gains, the prospects of future peace look bleak. Dr Harsh Pant of the Observer Research Foundation points out – 'There is no real incentive for the Taliban to concede on any issue given that Washington's best bargaining chip – its military prowess – is now off the table.'
This isn't the first time that the US administration has expressed its appetite for withdrawal. In 2014, President Obama laid a roadmap for withdrawal which didn't materialise, partly due to the grim realisation that the Afghan government lacks adequate capacity to take on the Taliban. The government's security and intelligence apparatus are still nowhere close to the level of preparedness that the Americans, as well as the Indians, would have desired. As the deadline of 11th September 2021 approaches, regional fault lines are bound to send shockwaves across the Middle East, Central and South Asia, with severe consequences for India. In this opinion piece, I attempt to analyse the Afghan situation from an Indian perspective.
Overview
Dubbed as the 'Graveyard of Empires', Afghanistan has proved to be a foreign power's nightmare. There have been multiple, futile attempts to conquer this land for the last two and a half millennia. However, any attempt at centralized control, even by the native Afghans, have failed miserably. Formidable imperial powers of the 19th/20th century, Britain and Russia, learnt their lessons the hard way.
The Soviet/Russian invasion of Afghanistan (1979-89) is a particularly insightful case. Invasion by the USSR, then a superpower, aimed to install a puppet regime in Afghanistan. However, the USSR began crumbling in 1988 and soon the Soviet troops withdrew after a decade long, inconclusive war. This was followed by a civil war among various Mujahideen factions. Finally the Taliban movement gained an upper hand and carved out an 'Islamic Emirate' in 1996, controlling most of Afghanistan's territory till 2001, when the US led 'War on Terror' forced them out of power. The US has fought a guerrilla battle since then.
If history is any guide, the two-decade-old American adventure in Afghanistan would pave the way for a Taliban takeover of the country. Simply put, America repeated the mistakes of past conquerors without learning much from them. As the US intervention nears its end, Afghanistan remains a fractured polity, with little hope for a stable and consensus-based government in place. India should take note and be ready for all contingencies.
India: Role and Implication
Recently, the US proposed a 'unified approach', under the auspices of the United Nations, to include India in the Afghan peace process. India has historically restricted itself to soft power projection in Afghanistan. It has been a strong advocate of an 'Afghan-led, Afghan-controlled and Afghan-owned process. However, the ground realities, marked by the presence of various foreign players, have repeatedly called into question the relevance of India's half-hearted interventionism. It is high time that India becomes part of the process rather than just be a passive onlooker. However, parallel issues deserve serious contemplation.
The Indian security establishment believes that the American withdrawal will be accompanied by an increase in support to the anti-India terrorist networks, both domestic and foreign. The operatives of Lashkar-E-Taiba and Jaish-E-Mohammed, banned under the Unlawful Activities (Prevention) Act 1967, have relocated to Afghanistan in large numbers. Similarly, the Haqqani Network, backed by Pakistan's military regime, is believed to play a prominent role in any future Taliban government. These anti-India groups will need to be looked out for.
Afghanistan is a global hotspot for illegal drug trade and together with Iran and Pakistan, constitutes the notorious 'Golden Crescent'. As per the United Nations Office on Drugs and Crime, opium poppy cultivation and trade is not just a fundamental source of livelihood for many rural Afghan families; it also generates substantial revenues for the terrorist groups. The drug business is speculated to boom with the Taliban's return. India, being a market as well as a transit hub for this illicit trade, may see a rise in drug-related crimes.
India's reconstruction and development assistance to Afghanistan over the last two decades has generated a lot of goodwill among the local populace. The assistance encompasses multiple sectors, including health, education, agriculture, drinking water, energy, irrigation, skill development, women's empowerment and infrastructure creation. These initiatives, however, are expected to take a hit. Absence of the US as a 'net security provider' casts aspersions on the future of development projects funded by India.
India's successful outreach to Central Asia, its extended neighbourhood, is conditional on the presence of a friendly government in Afghanistan. The 'International North-South Transport Corridor' and the creation of an international transport and transit corridor under the 'Ashgabat Agreement' are among significant connectivity initiatives between India and the Central Asian republics. These are expected to face the brunt of the regime change in Afghanistan. The 'TAPI' natural gas pipeline project, which already runs behind schedule, will be delayed even further.
The long-absent 'China factor' will figure prominently in the Indo-Afghan equation. In his speech, US President Joe Biden cited the rise of a hegemonic China as one of the reasons for the military pull-out. China might turn out to be the biggest beneficiary of this decision, as it plans to pump massive economic resources into Afghanistan through its 'Belt and Road Initiative'. Unlike 1996, the new Taliban government is expected to tread carefully on the front of economic diplomacy in order to receive international aid and garner political legitimacy. However, this poses danger for Afghanistan falling into a 'debt-trap', a trend peculiar to China's engagements with small economies.
Conclusion
Geopolitical compulsions often present uncomfortable choices to the nation-states. India's foreign policy establishment, which has detested the Taliban for too long, faces a similar choice. The evolving situation may not leave India with an alternative but to engage constructively with the Taliban. If India can have an issue-based dialogue with the military establishments of Pakistan and Myanmar; infamous for their human rights violation; it makes little sense to keep treating the Taliban as a pariah. Therefore India should be prepared to proactively engage with the future Afghan government, whatever form it takes, and capitalise upon its cordial relations with Afghanistan to ensure that China's expansionism and Pakistan's adventurism in that country are contained.
Image Credit: Author