Insight: Where ideas fuel changes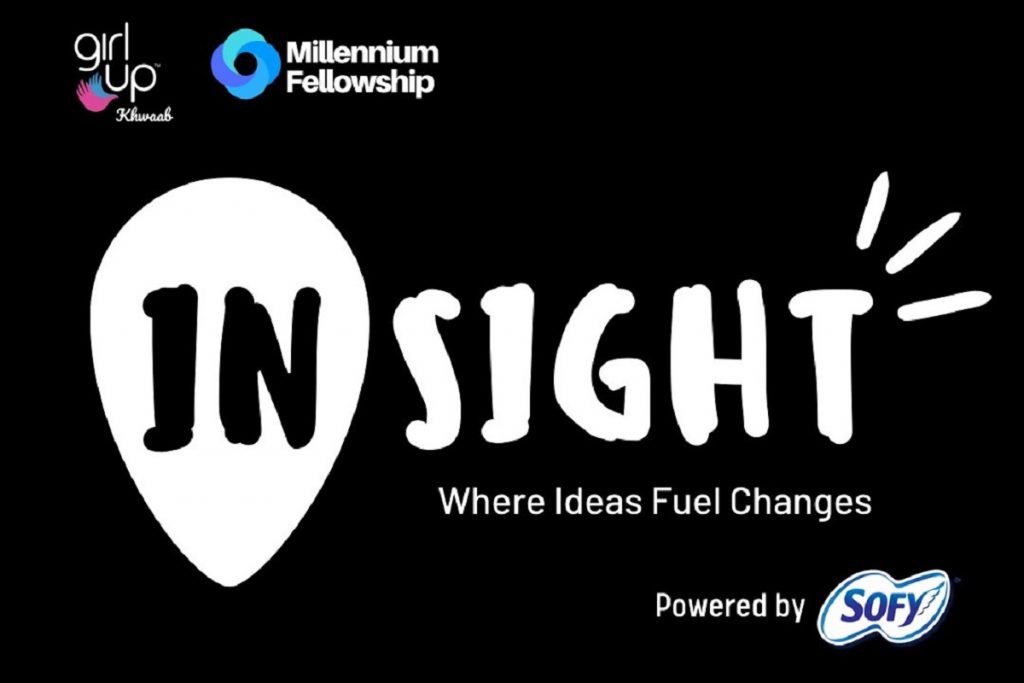 [responsivevoice_button voice="US English Female" buttontext="Read out this Theel for me"]
---
The three-day event INSIGHT – Where Ideas Fuel Changes was held on October 30th, 31st and November 1, 2020, respectively. INSIGHT was organized by two major UN initiatives – GirlUp (Khwaab) and the Millennium Fellowship (M There ). The event was attended by 200+ guests from across the world. The speakers who came from multiple different fields spoke passionately on themes they wanted to speak on. They were also ecstatic to answer the queries from the participants. Breaks were given between the sessions of individual speakers. These were termed as social lounges. The attendees were sitting on virtual tables and there were around a dozen tables in total. The breaks, lasting around 10-15 minutes were well utilized by several sponsors and partners of INSIGHT to promote their companies. These included the official media partner of the event – The Armchair Journal and the official community partner – Young Influx.
The opening session on October 30, 2020, was held between 4:00 pm -4:15 pm . The entire event was hosted and the sessions were moderated by Ashwini Vatsa (President , GirlUp Khwaab ) and Sandeep Mishra ( Project Head , M There ).
Terry Torok provided inspiration to budding entrepreneurs in his session. Torok is the amazing Chief Innovation Officer of ENACTUS Worldwide and has 18+ years of experience in the entertainment industry. He spoke about the way through which one can discover his/her passion and find their purpose in life. He also spoke about connecting passion and purpose together , individually stating the importance of both.
Lt. Gen. Iqbal Singh Singha spoke about his tenure as the Head of the Mission and Force Commander at the United Nations Peacekeeping Mission at the Golan Heights during the start of Syrian Civil War from 2012-2015. He also emphasized on several social issues like women empowerment , emancipation of the youth and what does it take for youth activism to bring a transformational change in terms of global peace. He said that our worldview really originates initially from the confines of our home. Children observe and imitate how men treat the women in the family and learn accordingly. They then apply these learning in school , college , playground , workplaces – essentially wherever they go. Empowering women to have agency in their lives has to start from the home itself. He also emphasized that young people must choose their role models very, very carefully because through an unconscious process youth imbibe both the negative and positive attributes of their role models. His son Harman Singh , an actor and social media influencer in his own right further elaborated his father's points while stressing upon the role of media in shaping the public discourse of the country. He illuminated that today's media is not constructive enough but can be vicious and directly personal in many of its scathing attacks.
Kenni Thacker -writer ,speaker and producer was our next speaker .Kenni Thacker who is the founder of 100 roses from concrete shall focus on a talk that highlights his work – empowering men of color in the advertising business gave the most impactful speech of how marginalized communities continue to face in the most socially structured ways in their daily lived realities. He quoted the Captain of the American Women Soccer Team . He said – ' being an ally should not be easy' , in case privileged people want to uplift their brothers and sisters from structural oppression it demands blood and sweat , foresight and imagination of emancipation.
On the second day ( October 31, 2020 ) we had Sachala Bala Mishra, a teacher from Bhubaneswar who emphasized on education as the key to woman empowerment. She also highlighted that there is truly no age for learning new things and hundreds of adult literacy programs in India have been exceptionally successful. Pratap Raju and Jul Joshi spoke about innovation, especially in terms of entrepreneurship and how both these streams of thought can align together as unique efforts to combat climate change. Gayathri Vasudevan, the CEO of LabourNet that continues to improve the income of individuals in the informal sector through sustainable means spoke about how things have steadily got better for women at work in the past thirty years or so. She is extremely happy to see the presence of so many men in the long march towards gender equality through initiatives like Girlup and Millennium Fellowship. She also advocates requisitioning gender stereotypes in terms of men, she wonders about the acceptance of househusbands in society. Further, a continuum of belief system creates obstacles in the path of ambitious working women. Recruiters even today wonder whether a woman will be able to juggle household duties and a professional routine. The last speaker of the day was Clince Verghese, a radio jockey and motivational speaker spoke about how the entertainment industry taught him to be happy and what happiness means to him. For him positivity is not always being cheerful and happy but about finding the flint of light in the pitch dark. To make life meaningful experience to realize and accept that certain things in life were never meant to be. He also highlighted the fact that though one always faces a rough patch of time, better days are coming ahead.
On the third and final day , Natasha Mudhar Natasha Mudhar who is the CEO and MD at Sterling Media ( international communications agency) spoke about making her way in a male-dominated corporate world like the UK. Captain Shalini Singh an ex – army officer and motivational speaker delivered a talk on how to rise again and again from failure and the need to have a positive outlook towards life. Spoke about the influence of youth in bringing about a change in the society. Sustainability is also the need of the hour and there is a need to exploit the potential of the youth in matters of sustainable development. we had Mr. Rajan Luthra discussing the definition of success , how it means different things to different people (respect , money , recognition etc) and why self-discipline is extremely important for success of any kind.
The session's ten-minute closing note was moderated by Sandeep and Ashwini who hoped that everyone exiting the conference would have become a more insightful person in some regard.
Image Credit: GirlUp Khwaab Insta